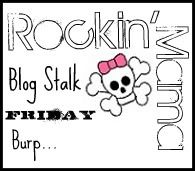 Look at me go! I'm finally getting smart and not doing a dozen posts on a Friday! Go visit Rockin' Mama, From Mommy to Calm Insanity, and The Chunky Goddess and link up!
You can also find me drinking beer and eating cupcakes here
Tumblr
The Twitter
Google+
Facebook
Pinterest
Now find me and stalk my crazy ass. I'm nothing if not entertaining!