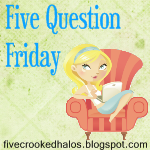 1. Do you know what your REAL hair color is?
Ummmmm, no. Some shade of brown. I started dying my hair when I was in high school, which was also when I started getting gray hair.
2. Do you plan ahead for summer, or fly by the seat of your pants?
Totally fly by the seat of my pants. I love to make plans, they just always seem to fall through.
3. What is your favorite meal to cook?
Cook? What is this cooking you speak of? I prefer to bake, cooking is fun, but baking is better. My favorite thing to bake? CHEESECAKE!!!!!!!! Duh
4. Do you get offended by not receiving thank yous?
That depends. I don't expect thank you cards, but if I'm there in person, it's nice.
5. How did you meet your best friend?
When we started dating two years ago, but technically you could say we met in fourth grade. Awwwww, isn't that sweet?