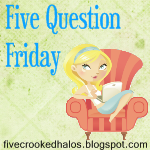 1. What is your favorite Easter tradition?
Usually we go camping in the dessert. We ride quads and do the whole Easter Egg Hunt and everything. This year, because I didn't bother looking at a calendar and the kids are with their dad, I'm going to the rodeo! Sometimes joint custody is a real bitch.
2. Are you a "shower" or a "long, hot bath" kind of person?
Definitely showers. I never really have been into taking baths. Not sure why.
3. C
an you parallel park and if so when is the last time you did it?
Yes I can. It's probably been a couple of weeks.
4.
What is your favorite Easter candy?
Oh, it's a toss up between peanut butter eggs and Cadbury Eggs.
5.
Easter: do you go all out with the Easter Bunny or focus on the religious part of the holiday?
We're not really very religious and my kids are convinced that I'm the Easter Bunny. I don't know where they got that idea.