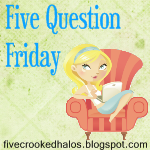 1. Where did you meet your spouse and did you instantly know it was love? Uh, he's not my spouse, yet. Though there have been many people that have assumed we're married. Kind of a long story, we actually met in fourth grade. We graduated junior high together and after pretty much lost touch after that. Then about two years ago we started chatting on Facebook and now we've been dating for two years. So a HUGE thank you to Facebook. I really need to buy that guy a beer.
2. What is your favorite room in your house? It's not my house :0(. So my favorite room is in my truck, lol because it's actually mine.
3. Can you wiggle your ears? Yes I can! I can't wait to see how many other people can wiggle their ears.
4. What is your evening ritual? It depends on which night of the week or weekend it is, but I do homework, check blogs, watch tv, wash my face, brush my teeth, and go to bed. Do I know how to party or what?
5. How many hours of sleep do you need to function? I can get by on 5, sometimes less, but if that goes on too long I turn in to the devil. So really I need 8 hours to be a somewhat pleasant human being.