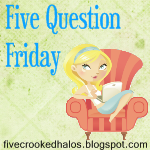 1. If you had the opportunity to bungee jump, would you?
I'm going to say yes, even though with my back problems I'm not sure if I might actually paralyze myself. It's probably a lot of fun. Scary as hell, but lots of fun.
2.
Would you rather go to the movie theater or to the drive-in?
Oh, I miss going to the drive in. Definitely drive-in.
3. Do you have your groceries delivered?
No. Unless you count my mom bringing them home. Haha
4. Eyebrows:
Do you wax, thread, pluck, or stay au naturel?
Pluck. I used to have them waxed, but that costs money and I don't have a lot of that right now. If I didn't tame them some how it would just be scary. I'd look like Groucho Marx.
5. W
ould the people you went to high school with be surpri
sed by your life today?
Probably not since I still talk to most of them.