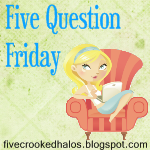 1.
If your husband had the BIG V and you got pregnant what would your first reaction be? For the dudes, what would your first reaction be if your wife told you she was pregnant after the Big V?
I had a tubal ligation when my daughter was born, so I guess my BF doesn't need the big V. If by some chance I did get pregnant there would probably be a whole lot of panic and staring at each other in shock. I'm too old to start that again. I love my sleep and the fact that my children can feed and dress themselves.
2. Best memory about this summer so far.
Actually getting to spend the 4th of July with my BF. The years before he was a firefighter and had to work, so this was pretty awesome.
3. How often do you change your sheets? Your kids sheets?
I'm supposed to change them? Oops.
4. Having just gone through TSA, would you rather have a full-body scan or a pat-down?
Eh, I guess I'll take the scan.
5. Since it is fair time...what's your favorite fair (county or state) memory?
Last year taking the kids to the fair and now that they're big enough going on all the fun rides. After my daughter had a meltdown of course. What would an outing be without somebody having a cow in a public place?