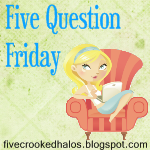 1.
If you knew your best friend's spouse was cheating on her or him, would you tell her (him)?
Probably. It sucks to find out after the fact. Like finding pictures in his old cell phone and realizing all his friends and co-workers knew what was going on and nobody said anything.
2. S
oda in a can or a bottle?
Bottle. I'm not sure why. I just picked one.
3.
What do you wash first, hair or body?
I wash my hair first. Actually I wash my face first, then my hair, then the rest. I'm very OCD about it.
4.
What advice would you give to any new mama?
Sleep when the baby sleeps. No really, sleep when the baby sleeps. Nobody cares that your house isn't clean or that you're not wearing any makeup, and if they do care, throw their ass out.
5.
What is your best hangover remedy?
I don't have one. Again, I'm using the 5 question Friday to find good hangover remedies should I need them one day.