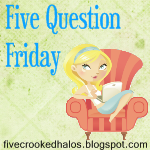 1.
Do you think cursive writing is overrated? (Schools in Indiana have now voted to take teaching cursive writing out of their curriculum.)
No, I think cursive needs to stay a part of the curriculum. I hate trying to read crappy hand writing.
2.
Do you still use a pocket calendar or notepad or do you keep your info on your smart phone?
Most of it's on my smart phone, although for work I type one up. I can't get it to sync with my phone for some reason.
3.
What 3 things would you save if your house was burning down? (family & pets are already safe)
My laptop, my camera, and my box of pictures.
4. C
ountry
Mouse or City Mouse, err Person?
Country mouse. Living in the city is driving me nuts.
5. I
f you could pick ANY reality show to go on, which would you pick?
Biggest Loser. Jillian Michaels would scare the fat right off of me.