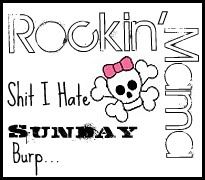 Shit I hate . . . . living with my parents. Holy shit
Shit I hate . . . . . slow drivers. Don't tell me you can't see the line of cars behind you. If that's as fast as your POS can go, pull that shit over and get the hell out of my way!
Shit I hate . . . . waking up at 6am on days I don't have to go to work. I could have slept in, but noooooooo! Fuck you internal alarm clock
Shit I hate . . . . my neighbor that does yardwork at 7am. On the off chance that I actually manage to sleep until 7am the last thing I want to wake up to is your fucking weed whacker
Shit I hate . . . . having gray hair. That shit is pain in the ass.
Shit I hate . . . . cleaning, it sucks
On an unrelated note, I'm considering doing this my last night of school on Thursday. Ha!