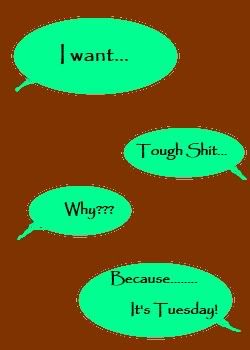 I want to go to the gym this morning . . . . .
tough shit I have a doctor's appointment, work, and an information meeting about 6th grade camp. Holy shit, my kid is in 6th grade!
I don't like working in the afternoon/early evening. I want to be done with that shit by noon . . . . .
tough shit, I have a job and I need to be glad that it pays decent. Fuck this economy
I need to wash my truck . . . . .
tough shit, I'm short and I have to pay somebody to do that shit.
I want to share more about what's going on with me right now . . . . .
tough shit, you guys are gonna have to wait. But it's gonna be good!
I really liked having the day off yesterday and most people got a paid day off . . . . .
tough shit, not me! I sat on my ass for free!
I thought the donor might actually get the boy home on time last night . . . . . .
tough shit, he's a douchebag and lost track of time so not only did the boy get home late, but I came home to a cold dinner. Talk about some bullshit!
If life has already made you it's bitch this week, click on the button above and go link up!