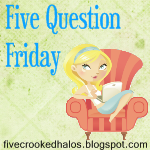 1.
H
ave you ever had roommates?
No. I have never actually lived by myself. I went from my parents to being married and then back to my parents. Sounds sad, but you can't miss what you've never had.
2. How many names do you/your children have? (i.e. Prince Charming William Phillip Arthur Louis John Jacob Jingleheimer-Schmidt)
Just the normal three I guess. First, middle, and last. Their last names were almost hyphenated but with last names that are over 6 letters long, it would have taken somebody ten minutes to say their last name.
3. Did you watch the Royal Wedding?
Nope. Wasn't really interested.
4. W
hat is the messiest room in your house?
The kid's rooms. It's scary and I just try to avoid going in them.
5. W
hat is your ideal mothers day?
Sleeping in, then going out for brunch, maybe a movie and then a nice dinner. Oh, and a massage somewhere in there too!