1. People always tell me I look like Winona Ryder or Sara Gilbert. I actually haven't gotten that in a while, so it's kinda nice. I don't think I look even remotely close to either one of them.
2.
Friends don't let friends
do stupid stuff without taking pictures!
3.
A sunny day is perfect for
going for a long walk and then hanging out in the backyard drinking beer with my love.
4.
My favorite accessory is
my necklace from Jason. I don't really have accessories other than that. I don't really count my jewelry for my piercings for some reason. They're just there.
5.
If I could afford it I would
move out of my parents house.
6. The cure for boredom is bug Jason, either in person or via text. Poor guy. I get bored a lot
.
7. I am currently "in like" with venti skinny caramel macchiatos. I want to just buy that stuff by the gallon.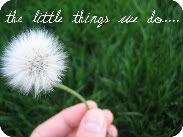 Click through to link up!