Sponsored by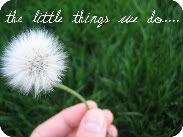 1. I am currently obsessed with cheesecake. Is it that obvious? I don't know what it is lately. I love cheesecake, but the last month I've loved it even more.
2.
Today I am
tired
because
, maybe I need more sleep? I think I need to start taking my vitamins again. I've been lazy lately.
3.
The age I am is
34
and the age I feel is
dependent on where I'm at. When I'm at work I feel like I'm about 8 and when I'm at home with the kids I feel like I'm 40. Two different things, I get to play and at home I have to deal with all the boring stuff like homework and showers and cleaning rooms.
4.
My favorite place is
anywhere with Jason,
because
we can have fun where ever we are. I think he could make being at the DMV entertaining. He's a funny guy.
5.
Something I have been procrastinating is
finishing packing. Ugh, I need to get in gear since moving day is less than a week away.
6.
The last thing I purchased was
lunch at McDonald's for the boy since his appointment was during lunch time and it was just fun to do. I almost never take the kids to McDonald's any more.
7.
The thing I love most about my home is
I have my own room again. For a long time me and the kids were all in the same room. It was not fun. I love my kids, but mommy needs her space.
Have a great weekend!