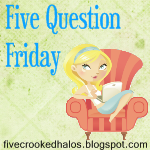 1. Would you rather be on ABC's Extreme Home MakeOver or TLC's What not to Wear?
Definitely Extremem Home MakeOver. I know I look like a hot mess most of the time, but I'm comfortable and as I've said before, the kids I work with don't care what I'm wearing.
2. Do you have any tattoos? Yes I do! I have 6 and can't wait to get more.
3. Do you tell your kids about things you did growing up? Some of them. Nothing I did during my teenage years because I don't want to give them any ideas.
4. If the traffic signal turns yellow, do you stop or speed up? I floor it! I've got a session to get to and I can't be late.
5. What's your preference: chocolate or chips? Chocolate covered chips. Damn that sounds good right now.