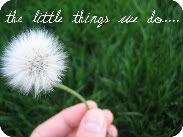 It's Fill In The Blank Friday over at The Little Things We Do! Click on the button to go link up!
1. I love
cheesecake
because
because it's delicious. It is heaven on a plate. Wait a minute, who needs a plate?
2.
A time that mama knew best was
when she told me to wait to get married and I didn't. You were right mom. Big mistake. Oops.
3.
My first kiss went a little like this
he asked if he could kiss me and I said okay. I was in second grade. His name was Chris. We were under the slide. Everybody was grossed out. Lol
4.
My celebrity crush is
Ryan Gosling (me too Lauren!).He's cute and he's funny.
5. My splurge of choice is
Starbucks. I've been doing that too much lately.
6. My biggest accomplishment is
getting my Bachelor's degree. I still have two months to go before I actually get it, but I'm close enough!
7. My dance jam of choice is
I don't really have one. That's kinda sad. I guess I'll have to find one.