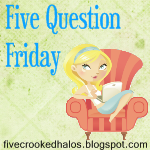 1. If you had to choose, how would you prefer to choose to spend money...on landscaping or a pool?
Pool definitely. I love being in the water.
2. (Scott likes to get things stirred up...) Death penalty, yay or nay?
3.
What's the worst thing your kid has gotten into when you turned your back/blogged/showered/blinked?
My daughter shaved her eyebrows off once when I was in the shower. She was five. I was drying off and I heard, "mom?" "Yeah?" "I think my eyebrows are falling off". I opened the door and there she stood with no eyebrows. I had to draw those suckers on for weeks until they grew back. She got lots of compliments on her lovely brows during that time.
4.
How often do you REALLY go to the dentist?
I used to go every 6 months, but now Medi-cal doesn't pay for dental for adults. Thanks a lot Ah-nold. You jerk. Now I can't afford it, so I hope my teeth don't fall out.
5. What is your favorite animal (doesn't have to be a pet-type animal)?
Duh! Horses.
Happy Friday!