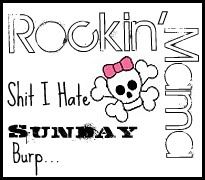 Shit I hate . . . . . .

people that drive slow as fuck on the two lane road to work. Don't act like you can't see all the cars behind you. There are plenty of places to pull over. Get out of my way!
Shit I hate . . . . . . .

being broke this month. Damn cancellations. Low hours means low pay. What a pain in the ass.
Shit I hate . . . . . .

the asshole ex being late to pick up the boy and making him stress. Poor kid flips out if somebody is one minute late from when they said they would be there. The ex knows that and still couldn't get his ass there on time.
Shit I hate . . . . . . .

shin splints. I may have said this before, but it bears repeating. Sucks ass.
Shit I hate . . . . .

the piece of shit wireless mouse that just decided to quit working and closed all my tabs. I nearly had a damn heart attack. Thank you auto save!
Shit I hate . . . . . .

no sleepover tonight. Okay, so I don't really hate that, but I'm not happy about it. I sleep so much better when he's here. I could be asleep right now damn it!