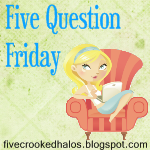 1. W
hat is your favorite summer time activity?
Swimming. I love being in the water.
2.
Do you have one laundry soap you stick to, or do you buy whatever's on sale?
I prefer Tide, but sometimes I just have to go with what I can afford.
3.
What is your favorite dinner to make in the summer?
Taco salad, and now I'm hungry.
4.
Do you have any talents?
Yes, lots. Being a smartass is one of them.
5. If you could instantly be an expert in something, what would it be? Why?
Photography. Because it's fun and I like it.