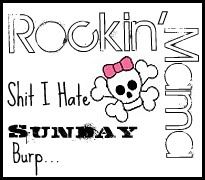 Shit I Hate . . . . . .
fuckers that park with the ass end of their vehicle blocking the sidewalk. You have tons of room in front of your car/truck/SUV. Move up so people can actually use the sidewalk. It's called a sideWALK not a sidePARK.
Shit I Hate . . . . . .
the busywork homework they're giving us the last four weeks of class. Lame!
Shit I Hate . . . . . .
people that take up three machines at a time at the gym. You're not the only one here douche bag.
Shit I Hate . . . . . .
not being able to go buy better running shoes. Getting paid only once a month sucks.
Shit I Hate . . . . . .
still living with my parents. Don't get me wrong, they're cool as hell, but they're my parents. I miss having my own house.
Click on the button at the top to go link up!